I joined the IT industry in May 2016. For almost 2 years till June 2018, I have worked as a PL/SQL developer to develop code for Oracle ERP environment. I have always been a technology enthusiast. Even being a PLSQL developer did not help stop my curiosity into other technologies and tools.
I used to work primarily on databases and PLSQL, but I was always wondering to move out of this into other coding languages/technologies which I found more interesting. Python has always been my favorite coding language and I never stopped coding in that. Apart from this, I used to help my colleagues from different projects in their tools and technologies, which helped me gain an insight into so many tools. I built a good coding hand in Shell scripting by helping my friends and colleagues at work.
I was recognized in my team as one of the most versatile developers, who could be pulled anywhere. Not long after my managers recognized my potential, I was given a task to work on developing a Chatbot product using Node JS primarily at the back-end. I learned quickly and handled the Chatbot very well. This really made an impact on my professional career as I was now praised by everyone. I slowly started feeling my way out of PLSQL and into newer technologies.
I still remember the day my manager called me and said that I need to research on this new technology called RPA and the tool "UiPath". I literally had no idea on what she was talking about. But I was more than happy that I was selected to dig into something new. Days passed and I eventually became the only resource of the RPA automation team. It was a learning stage for me and was a tough time too. Initially, we started with Proof of Concepts and I gained hands-on experience directly without any major theoretical knowledge. Soon enough I realized that I need to work more and be better as I will soon be expected to reach the RPA coding standards and will have to compete with developers of the other vendor, who were highly trained on RPA. I too did not leave any stone unturned since I had already realized that this is the career switch I have been looking for. I went ahead and started preparing for the UiPath Advance RPA certification. I learned the below courses in order from UiPath Academy and finally gave and cleared the UiPath Advance RPA certification on 24 March 2019.
1. RPA Developer Foundation Training
2. Level 2 – Orchestrator Training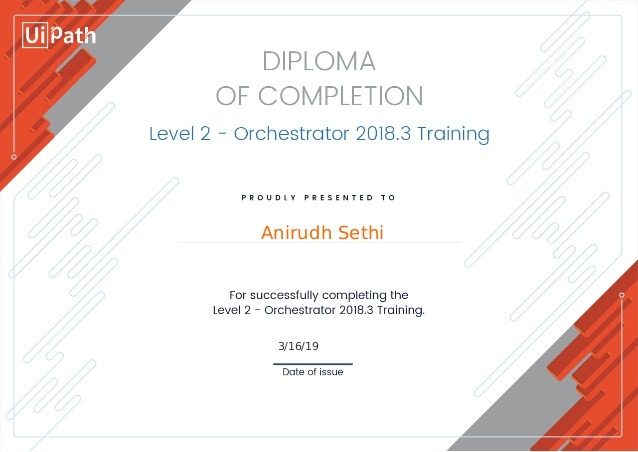 3. UiPath Advanced Training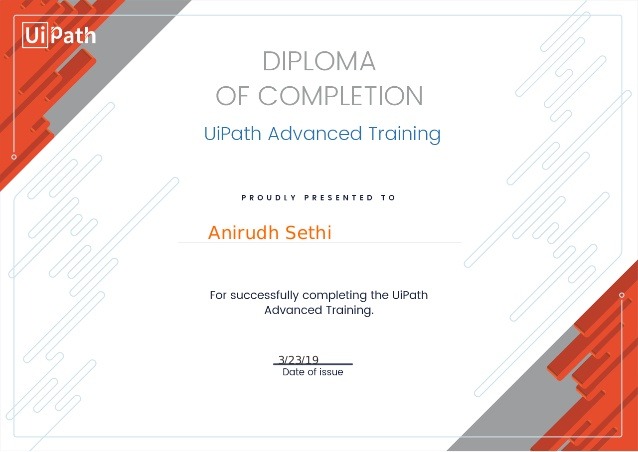 The UiPath Academy courses have thorough coverage on the topic and have more that sufficient hands-on exercises. I completed my UiPath training in 1.5 month and was able to crack the RPA Developer certification exam in first attempt 🙂
Certified UiPath RPA Developer