After i had a bitter experience, when my phone rang loudly in middle of an office meeting due to a reminder, I got an idea to change the way we use reminders. Conventionally, we use alarms/reminders in our phone to remind ourselves of friends birthdays or any important task. On a personal note, I do not like such reminders! What if you are sitting in an office meeting, and here goes the embarrassing reminder tone on your phone. I thought of changing the way we are reminded, to a more sophisticated one !
Presenting to you the idea of Utility Reminders. Now get an E-Mail and a SMS delivered straight to your inbox for each reminder. Well, if you have a habit of reading E-Mails or SMS, I assume you'll never miss an appointment or friend's birthday again !
This webpage for reminders, takes inputs from user to create a reminder in its data warehouse. Have a look at the screenshot: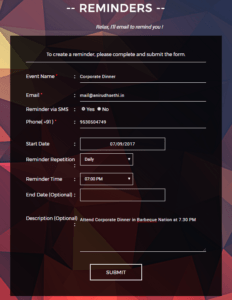 Here in the form, we enter our reminder's details.
Event Name – A short title name for the reminder.
Email – Reminder's delivery email address.
Reminder via SMS – Whether you want to share your contact number for SMS or not.
Phone – SMS delivery mobile number. Phone number is not available if you choose not to be reminded by SMS in above step.
Start Date – Date from which you want your reminder to start. It is optional. Default date is automatically chosen as today's date.
Reminder Repetition – How often you want the system to remind you. You can choose from options like Daily, Monthly, Weekly or Weekends, etc.
Reminder Time – The time for the reminder delivery. Currently, this web-app supports only hourly reminders, but it will be supported with facility of scheduling reminders at a gap of 15 mins.
End Date – Date after which you wont receive the current reminder. End Date is optional. Users have the option of ending the reminder manually from the reminder e-mail.
Description – Detailed info about your reminder for your own convenience. Description is also optional.
Well it really does not takes much time to create a reminder for yourself. Few steps and you are done. See the below screenshot for the reminder e-mail and the SMS.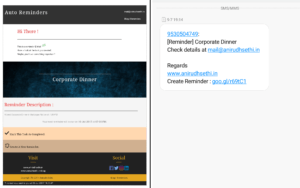 So !! Take a roll and create your first reminder today !
— Click here to create a Reminder —
Still Confused ? Got questions?
Drop me an e-mail at mail@anirudhsethi.in
Spare a minute and share this post ! Click on the sharing buttons below 👇